Isn't it groovy that this image of Captain Marvel from
Superman / Shazam: The Return of Black Adam
is both for a short and foreshortened?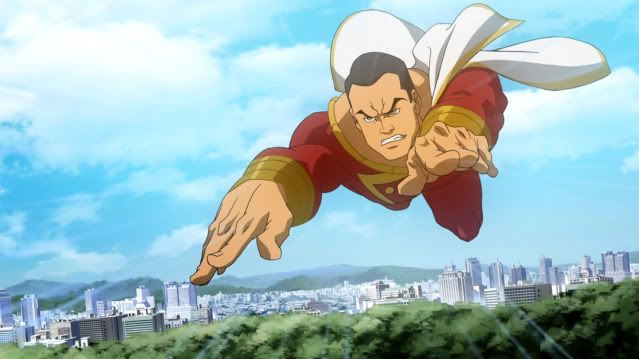 The Black Adam image is also from the short, but alas, is not foreshortened.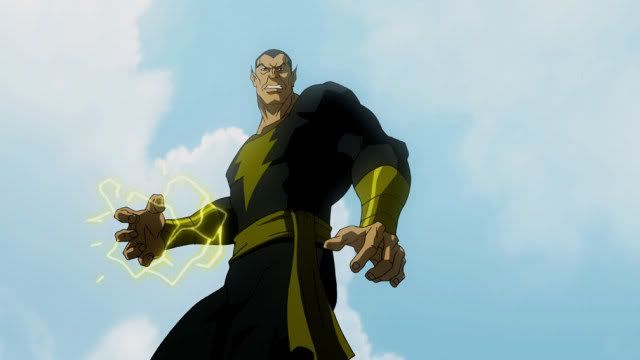 The
Superman / Shazam: The Return of Black Adam
main feature will be released on DVD November 9th on a shorts collection with extended versions of The Spectre, Jonah Hex, and the still upcoming Green Arrow.
The episode is described as follows:
In Superman/Shazam! The Return of Black Adam, Clark Kent's latest interview subject is street kid Billy Batson. What Clark doesn't know is that Billy is more than a feisty kid with a lot of heart – he has been chosen by an ancient wizard to represent the good of man as the World's Mightiest Mortal just by invoking the name of the wizard, "Shazam!" Billy's powers come none-too-soon, as he also discovers he's being pursued by a centuries' old, murderous villain, Black Adam – a foe so powerful, even Superman can't stop him alone. The all-star cast of Superman/Shazam! The Return of Black Adam is led by Jerry O'Connell (Crossing Jordan) as Captain Marvel, George Newbern reprising his Justice League role as Superman, Arnold Vosloo (The Mummy) as Black Adam and two-time Emmy Award® winner James Garner (8 Simple Rules) as The Wizard.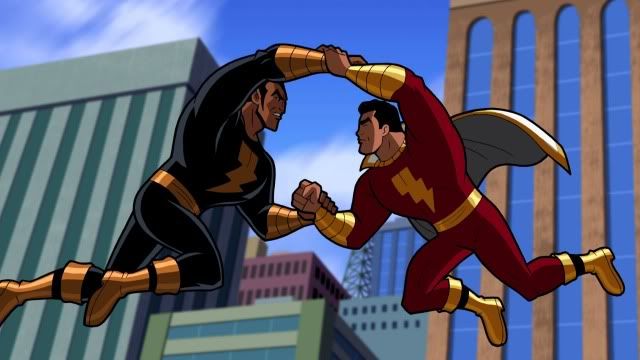 It sounds fine and I am pretty sure it will be good, but it sounds an awful lot like the recently aired Batman: The Brave and the Bold episode, The Power of Shazam! as seen above (with Bats replaced by Supes). I will say though, these shorts have a great non-cartoony style. I can't wait to see how the Man of Steel will look. Just for fun check out Black Adam from the 1980's Kid Super Power Hour with Shazam! show. Seems like a pretty likable guy... oh how times have changed.