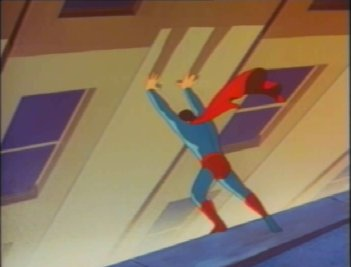 Original Airdate: September 26, 1941
And we are off...
This first short opened with Superman's origin story which involved something about Krypton, a race of Supermen, and growing up in an orphanage. Next, we learned about his powers, "Faster than a speeding bullet, more powerful than a locomotive, able to leap tall buildings in a single bound, the infant of Krypton is now the Man of Steel, Superman."
Superman faced a mad scientist who is melting the city with his electrothanasia ray. Yikes. Sounds menacing.

Best Part: A couple of the highlights were Superman catching a falling building, and a sequence where he punched back the the electro-euthanasia ray thing.

Worst Part: For some reason, despite the fairly realistic tone of the episode (aside from all the mad scientists, giant lasers, and Supermans), the scientist had this weird anthropomorphic bird following him around like something that escaped from Disney's Snow White and the Seven Dwarfs.

-----
Episode Count: 0001
In Series Count: (1 of 17)
First Appearance: Superman, Clark Kent, Lois Lane