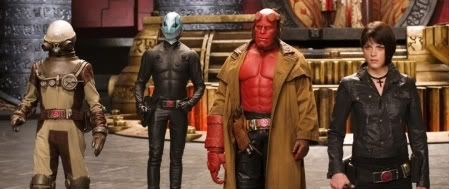 Heroes
: Hellboy, Liz Sherman, Abe Sapien, and Johann Krauss
Diabolical Scheme
: Nuada, Prince of the Elves wants to reunite pieces of an ancient crown which will enable him to command an unstoppable army of mechanical soldiers.
Coolest Moment(s)
: Those pesky tooth fairies, the trip to the troll market (being the best example of incredible effects) and the fight with the golden army.
Worst Moment:
Abe's infatuation with Wonder Twin B. C'mon Abe, you can do better.

Comic Book Logic
: How are Hellboy and Liz genetically compatible. The thought of their conceiving a baby is pretty revolting.
Opening Weekend
: $34,539,115
Total Domestic Box Office
: $75,986,503
Review in 50 Words or Less
: Incredibly underrated. You never thought a group of such strange looking oddballs could ever be accused of character development Creative and formidable monsters, top notch effects, and a story balancing equal parts action and heart propel these freakish heroes into a rare sequel which far outshines the original.