Captain Marvel AKA Shazam and Superman have crossed paths before in the Justice League Unlimited series as well as in The Superman Batman: Public Enemies DVD. They are set for another encounter in a double length animated short that will anchor a short film DVD compilation (along with rumored longer versions of The Spectre, Jonah Hex, and Green Arrow).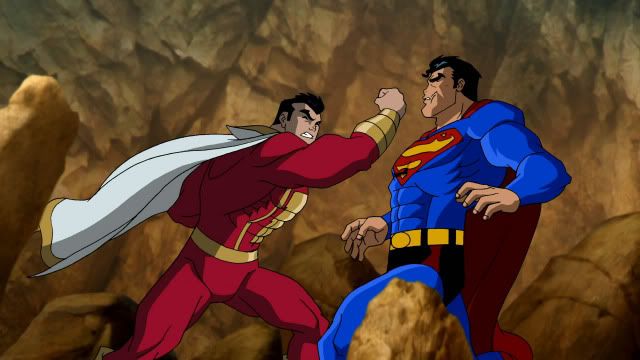 According to a leaked summary,
Superman/Shazam!: The Return of Black Adam
will feature the following story: Clark Kent interviews street kid Billy Batson, he realizes that the feisty kid has a lot of heart. When Billy is chosen by an ancient wizard to turn into the hero Captain Marvel just by invoking the word, "Shazam!" Billy's powers come none-too-soon, because he also discovers that he's being pursued by a centuries' old, murderous villain, Black Adam, who is out to destroy Captain Marvel and is so powerful, not even Superman can stop him. Rated PG-13.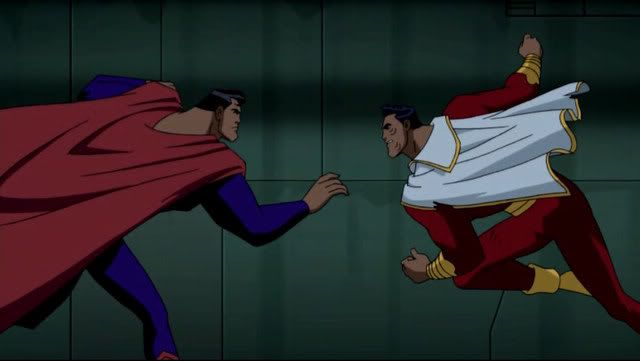 Confirmation of this short lends further credence to a list of potential shorts which also includes Blue Beetle / Booster Gold, Lobo, Catwoman, and Batman: Gotham by Gaslight. Though no official release date has been given, Spring 2011 seems likely.
NOTE: Sorry about the lack of sources in this post. The information about rumored shorts came from
a post
at the
toonzone forums
, and the info about Superman and Shazam being the next to get released is from a site that does not want to be referenced.